There's nothing harder than a long road trip with the little ones. Check out this guide on how to survive a road trip with the kids.
Planning a cross country road trip with kids? Check out these tips on how to make it through alive and well
Road trips - don't we just love them? As fun as road trips can be, having to drive long distances with a couple of loveable yet impatient kids in the back seat can be quite the tedious experience. From planning a cross country road trip with kids to figuring out what things to take on a roadtrip with toddlers, we've got you covered. Before you begin the trip, check out our
ultimate road trip essentials list
to make sure you're ready for anything the road can throw at you.
Get Comfortable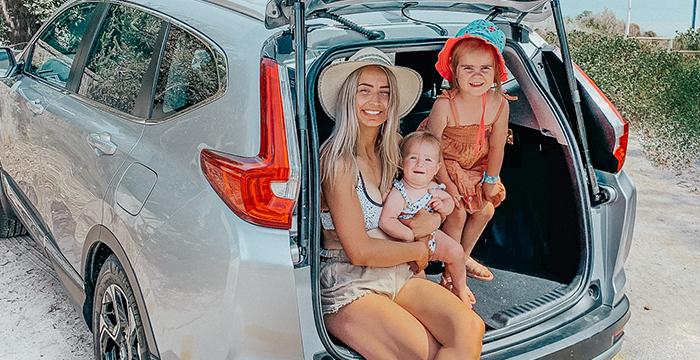 The first step for a road trip with children is to get comfortable! Make sure that the little ones are safe and secure. If they're still in a booster seat, make sure they're as comfy as they can be. Make sure they have their favourite toys with them as well so they feel as cozy and relaxed as possible.
It's important to make sure that you're comfy as well. Adjust your seat to your desired position and for ultimate comfort warm up in winter with the heated front seats.
Plan Ahead
This one is very important. Be sure to plan ahead.
Depending on how long you'll be driving will determine how many stops you might need to make. Map out the journey on Google Maps and make a note of all the nearest rest stops in case of any emergencies.
Plan out where you're going to have your big stops for food. Do these places have adequate facilities? If your children have allergies or are picky eaters then there is a large centre console to store endless snacks. It slides into three positions to accommodate just about anything. The CR-V also has up to 10 cup holders~ because we know one drink is never enough.
Activity Books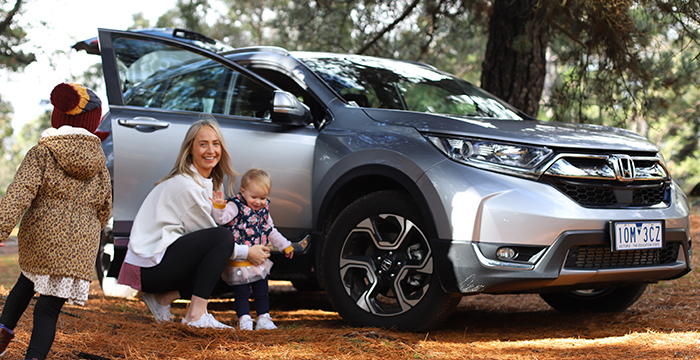 Activity books are a great way to keep the kids distracted and their minds stimulated. Think about things like colouring books or puzzle books that will keep the kids busy.
Some of the types of books you can grab include
Puzzle books

Colouring books

Sticker books

Story books
Road Trip Games

If it isn't broke don't fix it - the age old road trip games are still alive and well.
Perfect for hours of fun and bonding, whip out a road trip game and watch the hours fly by.
Here are some games to get you started.
I Spy: I spy with my little eye, something beginning with…
Licence Plate Game: The first person to find a number plate from every state wins.
The Name Game: Pick a category and the first player has to name something within that category starting with A, then the second player picks something starting with B and so on until someone can't think of an answer.
Scavenger Hunt: Before the trip, create a list of common things you may expect to see on the trip like a police car or a farm animal and throughout the trip each player will try and tick off as many things as possible.
The iPad
When all else fails, reach for the iPad.
While road trips are nice for a bit of family bonding away from technology, turning to the iPad can be a good option to get some much needed peace and quiet. There are plenty of family friendly apps that provide hours of educational content to keep the kids distracted in the back seat. No need to worry about flat batteries or long charging cables the backseat comes with two USB charging ports° Speaking of long cords the VTiL7 and LX come with a wireless charging pad.
No One Gets Left Behind
If you're after a car that's perfect for family road trips, consider the Honda CR-V.
The Honda CR-V now comes in a 5 seat option and a 7 seat option - perfect for those family road trips. Whether you're a light or heavy packer there's plenty of space for everyone and their belongings with 522 litres of capacity, the boot space is perfect for a getaway.
Designed to make your journeys more enjoyable the front seats have been redesigned for greater support and the rear seats have been adapted to include increased rear head and leg room space.
For Extra Piece of Mind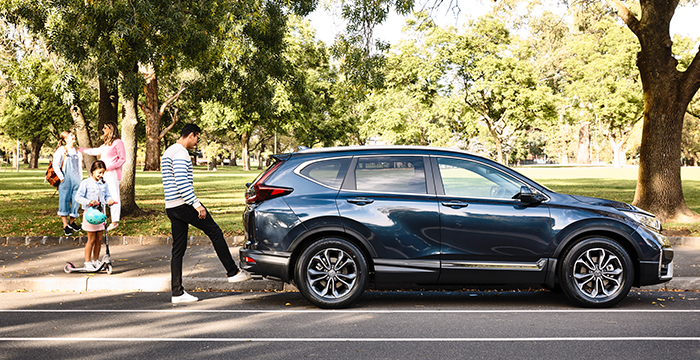 Roads can be distracting at the best of times even more so on a long road trip with the little ones in the back.
To help you and your crew feel even safer on the road the CR-V also comes with Honda Sensing advanced safety technology on more grades than ever before.
Honda SENSING* includes technology designed to assist you on those long road trips like Honda's Lane Keep Assist System and Adaptive Cruise Control With Low Speed Follow. The Lane Keep Assist System takes the stress out of long drives by providing steering input to help keep the vehicle in the middle of a detected lane and provide audible and visual alerts if the vehicle is detected drifting out of its lane.
Similar to standard cruise control, Adaptive Cruise Control with Low-Speed Follow helps maintain a constant vehicle speed and a set following interval behind a vehicle detected ahead of yours and, if the detected vehicle comes to a stop, can decelerate and stop your vehicle, without you having to keep your foot on the brake or the accelerator.
To learn more about the Honda CR-V or see Honda SENSING in action, reach out and get in touch with your local dealer today.