Honda Financial Services
Credit proudly provided by Taurus Motor Finance
A simpler way to finance
At Honda, we believe getting auto finance pre-approval shouldn't require a complicated process, which is why we've made it easy. With Honda Finance, now you can apply for your pre-approval online in just 4 steps‡.
No paperwork and no impact on your credit score. Nice and simple.
Financing in 4 easy steps
Car financing can be a complicated process, but we've got you covered.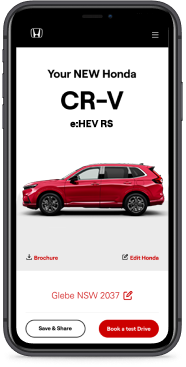 Step 1
Choose your new Honda
Browse our Build & Price Tool to find your favourite model.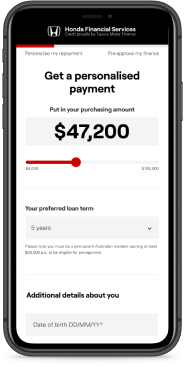 Step 2
Provide your personal details
Get your personalised repayments by simply providing some basic details, including your driver licence number, and verifying with your mobile phone.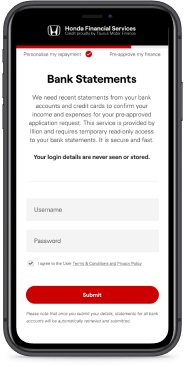 Step 3
Provide your financial details
Enter your income, expenses and bank login details via our safe and secure independent portal.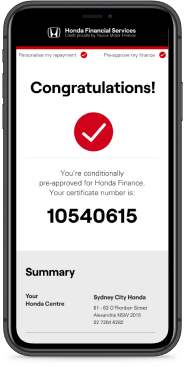 Step 4
Receive finance pre-approval‡
You will be provided with a certificate number and your preferred Honda Centre will get in touch to arrange a time to finalise your application.
What you need before you start
| | |
| --- | --- |
| Checklist | Reason |
| Personal details and Australian driver licence | Simply provide some basic details, like your name, address, date of birth and your licence number validate your eligibility and calculate your personalised rate. |
| Income and expenses information | Confirm your income and expenses details to provide us with a clearer picture of your finances. |
| Banking details | Confirm your financial details via our secure independent portal to validate your bank statements. |

Pre-approval in as little as 10mins‡
Receive pre-approval online wherever you are and minimise time at the Honda Centre.

Personalised repayment rates
Apply online and our smart finance rate algorithm will calculate a personalised rate that's tailored to you.‡

No impact on credit score
Get auto finance pre-approval before submitting an application, with no impact on your credit score.‡

Simple
All you need is your driver licence and smart phone to fill out our secure online form. It's that simple.

Secure
Your security is our highest priority. That's why we use Illion, a secure web-based solution for the retrieval of your bank statements. Your login credentials are never stored and are securely destroyed once they have been encrypted and passed to the bank. The service is a one-time retrieval, and it only happens with your authorisation.

Complete control
Feel free to choose the term of your loan – anywhere between 12-84 months.
Our finance partner
We're proudly partnered with Taurus Motor Finance - an Australian-owned auto finance company that specialises in simplifying the car loans process. With their support, we've waved goodbye to the long wait times and excessive paperwork that usually comes with financing. It's less work, low cost and a more joyful way to finance your Honda.
What is Honda Finance conditional pre-approval?
Why is getting pre-approved online for a car loan so beneficial?
How does Honda finance pre-approval work if I apply on the Honda Australia website?
How do I use my credit score?
Is my credit score affected if I am declined for finance pre-approval?
Who are Taurus Motor Finance?
How safe is it to upload bank statements for the finance pre-approval process?
How does the bank statements upload work?
What is the difference between the interest rate and the comparison rate?
What is the current interest rate offered by Honda Finance?
How do I know what I can afford?
What is the benefit of having a personalised loan repayment rate?
Can Honda Finance change my interest rate during the term of the loan?
What is a fixed rate loan?
Can I pay out my loan early?
What happens if my circumstances change?
Can I change my repayment amount and schedule?
What documents do I need to bring to a Honda Centre?
I've got a Honda Finance product, but who do I need to contact for more information
Build & Price Tool
Still deciding on which model you want to finance? Start off with our new Build & Price Tool.