Planning a trip around Tassie? Take a look at our guide of the best places to stop and see.
There's nothing better than a Tasmanian driving holiday. Check out our guide to all that Tassie has to offer.
Van Diemen's Land. The southernmost state of Australia is home to a variety of unique wildlife, picturesque coastal regions and an extensive mountainous landscape.
Because Tasmania is so small and compact, it's one of the easiest (and best) places to take a road trip.
Whether it's your first time visiting the Apple Isle or your hundredth, a self-drive through Tasmania can be a magical and mesmerising experience.
We've put together a handy guide on all of the best things to see and do when you're taking a road trip around Tasmania.
Road Trip Checklist
Before you hit the road it's important to make sure you're prepared and ready to go.
Whether you're hiring a car or you're driving your own, the last thing you want is a flat tyre or to breakdown in the middle of nowhere.
We've created the ultimate road trip essentials list to make sure you never get caught out again.
Melbourne to Tasmania Road Trip
If you're planning on visiting Tassie from the mainland, you're most likely going to have to go through Melbourne.
If you're bringing your own car over, the Spirit of Tasmania departs almost every day from Melbourne and will drop you off in Devonport on Tassie's northern coast.
For more information visit the Spirit of Tasmania website.
How long does it take to drive around Tasmania?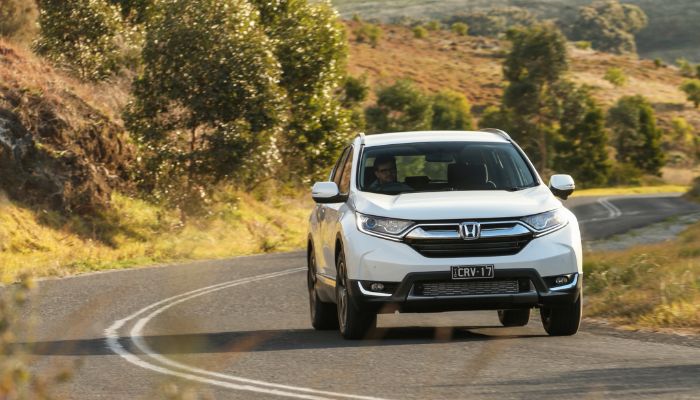 if you're curious on how long it takes to drive around Tassie, it's relative.
To do a lap around Tasmania is going to take you approximately 22 hours of non-stop driving so it's not massive. However much you want to see depends on how often you want to stop.
If you really want to make the most of your Tasmanian road trip, we would suggest 5 to 10 days so you can really soak in all that Tassie has to offer.
Places To Visit
With the state of Tasmania covering about 68,400 square kilometres in total, there's a lot you can see and do. Unfortunately we couldn't include everything in this list but here's a small guide on some of our favourite places to visit in the Apple Isle.
The Great Eastern Drive
Stretching along the east coast of Tasmania, the Great Eastern Drive is widely regarded as one of the greatest road trips in Australia. The drive is approximately 176 kilometres long and runs between Orford and St Helens.
During the drive you'll be fortunate enough to experience national parks, award winning wineries and picturesque beaches. A highlight on the Great Eastern Drive is Maria Island, only a short boat trip from the town of Triabunna. Maria Island is home to the World Heritage listed Darlington convict probation station, a national park packed full of walks and historic ruins littered throughout the island.
Bay of Fires
If you finish the Great Eastern Drive in the town of St Helens, be sure to visit the Bay of Fires which is under an hour's drive away.
The Bay of Fires is arguably Tasmania's most iconic tourist attraction, it sits along the north eastern coast of Tasmania and stretches for over 50 kilometres. The bay consists of beautiful crystal-clear waters, white sandy beaches and diverse marine life. The main beach is Binalong Bay, a picture perfect beach ideal for swimming, snorkelling and surfing.
Convict Trail
The Convict Trail is a common self-drive tourists take which explores all the iconic locations from Tasmania's convict-era history. A recommended route would be to start in Hobart then head off to Richmond, Tasman National Park, Eaglehawk Neck and ending up at the famous Port Arthur.
Port Arthur
The world heritage listed Port Arthur is a preserved penal settlement located on the Tasman Peninsula in Southern Tasmania. Named after George Arthur, the lieutenant governor of Van Diemen's Land at the time, Port Arthur was originally a timber station but evolved to be the destination for the most dangerous convicts in Australia at the time.
Today the former prison settlement receives over 250,000 visitors a year due to the convict-era infrastructure and buildings being a must see for tourists.
Hobart
Tasmania's capital city Hobart is home to a unique blend of culture and heritage. The ever popular Salamanca Market and modern art gallery MONA are only a taste of what you can expect. A major selling point of Hobart are the seafood restaurants that pride themselves on serving exclusively local produce, such as the famous Tasmanian Atlantic Salmon.
Cradle Mountain
Cradle Mountain sits at the northern end of Cradle Mountain - Lake St Clair National Park and is the starting point of the world famous Overland Track. With plenty of accommodation nearby and Dove Lake sitting at the bottom, Cradle Mountain is a must for any successful road trip.
Attractions
MONA
The Museum of Old and New Art (MONA) can be found just a short drive north of the state capital Hobart. The museum is housed in a subterranean cave-like system and houses the personal art collection of founder, David Walsh.
MONA has a reputation for being quite "out there" and "edgy" with its displays and art works. Keep this in mind when you visit and if you're unsure do a bit of research beforehand to see if it's for you.
Derby Mountain Bikes
If you find yourself in the town of Derby be sure to consider hiring yourself a mountain bike. The town is surrounded by lush Tasmanian wilderness and over 125 kilometres of mountain bike trails have been carved out.
The purpose built mountain bike trails include a number of options that will suit all skill levels. The best part? It's completely free.
Southern Aurora Australis
No trip to Tasmania is complete without seeing the Southern Aurora Australis or Southern Lights. Aurora Australis is caused by particles that burst from the sun and create solar wind. This solar wind is drawn to the magnetised north and south poles, causing the phenomena.
The southern lights can be quite elusive. Unfortunately, they don't appear every night and their appearance is hard to predict. The general consensus is the further south you go, the better. A good vantage point is Mount Nelson which is about a 10 minute drive from Hobart. While no one knows precisely when it will happen, it is more likely to occur in winter.
The Honda CR-V
No matter the adventure, you'll always be prepared in a Honda CR-V.
The CR-V has been designed with adventure in mind, it comes in an AWD option, the choice between 5 or 7 seats and a reliable VTEC Turbo* engine
The Honda CR-V also comes with Honda SENSING, Honda's advanced suite of safety technology. Honda SENSING includes systems designed to help prevent you from straying off the road such as the Lane Keep Assist System which provides steering input to help keep the vehicle in the middle of a detected lane and provides audible and visual alerts if the vehicle is detected drifting out of its lane.#
Perfect technology for a road trip.
If you're interested in learning more about the Honda CR-V or Honda SENSING technology, get in touch with your local Honda dealer today.

*Not available on Vi 2WD.
#Available on VTi-S AWD and VTi-LX only. Honda SENSING technologies are driver-assist technologies and should not be used in place of safe driving practices. Drivers should continue to monitor the road at all times. The accuracy and operation of Honda SENSING technologies may vary based on weather, speed, traffic, road conditions, markings and other factors.