The Honda Civic Type R, known for its incredible performance and agile handling, has once again set a new record at the legendary Nürburgring Nordschleife race track. The latest version of the Civic Type R has achieved a new fastest lap time for a front-wheel-drive production car, beating the previous record held by the Volkswagen Golf GTI Clubsport S.
The new lap record of 7 minutes and 43.8 seconds was set by Honda's development driver, Ryuichi Kijima, in a pre-production version of the 2022 Honda Civic Type R. This impressive achievement comes after months of testing and development, with Honda engineers fine-tuning the car's performance to ensure it could tackle the demanding 12.9-mile track.
The new Civic Type R features a 2.0-liter turbocharged four-cylinder engine that produces 320 horsepower and 295 lb-ft of torque. It also comes equipped with a six-speed manual transmission and advanced aerodynamics, including a large rear wing and a front splitter, which help to provide additional downforce and stability at high speeds.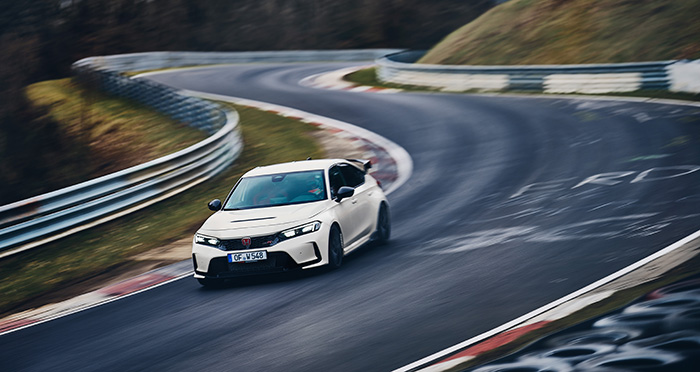 During the record-setting lap, Kijima pushed the Civic Type R to its limits, navigating the challenging twists and turns of the Nürburgring with precision and speed. The car's suspension and brakes were also put to the test, with Kijima reporting that the car handled exceptionally well, even at high speeds.
The Civic Type R has a long history of success at the Nürburgring, with the previous generation setting a lap record in 2017. This latest achievement solidifies Honda's position as a leader in the high-performance front-wheel-drive car market and showcases the brand's commitment to pushing the boundaries of automotive engineering.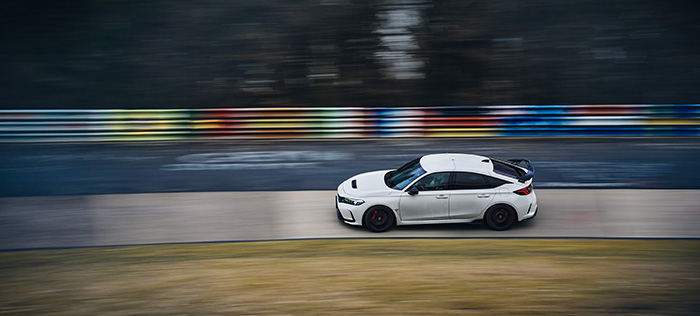 In addition to its impressive performance capabilities, the new Civic Type R also features a range of advanced safety and driver assistance technologies, including adaptive cruise control, lane departure warning, and forward collision warning. These features, combined with the car's agile handling and powerful performance, make it an excellent choice for drivers who demand both speed and safety.
The Honda Civic Type R has once again demonstrated its prowess on the track, setting a new record at the Nürburgring Nordschleife and cementing its position as one of the best high-performance cars on the market today. With its advanced technology and precision engineering, the new Civic Type R is sure to impress even the most demanding drivers and enthusiasts.