Less is more as Honda launches new retail concept
Honda has revamped its dealer network to offer a better customer experience with its new agency model.
The Japanese car maker has introduced a top-to-tail overhaul of its business in Australia that has led to a revamp of its network to provide a better customer experience.
As part of its new agency model, which flips the traditional relationship between a manufacturer and its dealers to become representative selling agents on behalf of the brand rather than for themselves, Honda has rationalised its dealer footprint to 90 individual Honda Centres that are operated by 47 independent businesses.
Honda says the key objective from a customer point of view was to maintain levels of convenience while enhancing the overall experience. In addition, the One Price Promise and low price servicing for new vehicles has reduced the need to shop at multiple dealers and travel across different locations.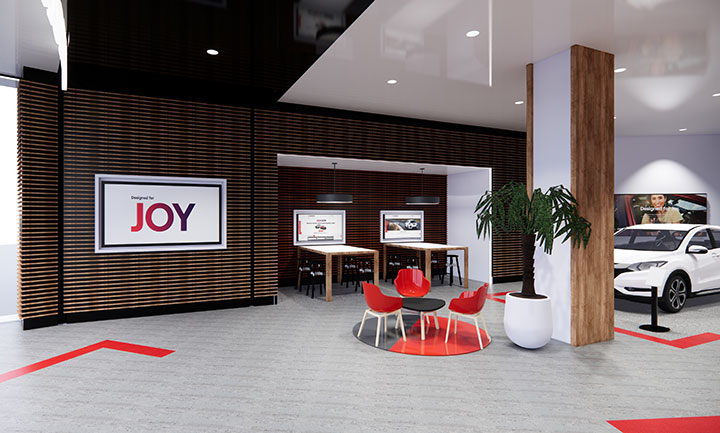 Honda Centre, New Retail Space Concept
From a business perspective, it was important to design a network that is suitable for the company's medium-term objectives and identify the steps required to marry-up with Honda's future volume objectives, including the introduction of electric vehicles.
Honda Australia worked with Urban Science, a global consultancy and software company with over 40 years of experience in retail network planning and business intelligence systems, to optimise the revised network for the brand.
"An optimised network can be considered like a three-legged stool of the right number, location and performance of centres," said Mark Patton, Country Manager Australia, Urban Science.
"All three legs of the stool must be optimised to deliver Honda's sales objectives and service convenience for customers within Australia."
In developing the new network plan, Urban Science used historical competitive registration data to pinpoint the concentration of potential Honda owners around Australia, and then analysed existing Honda customer behaviour based on how far they currently have to travel to visit a Honda Centre.
"The number of centres required in a market is a balance between Honda's sales volume objectives and servicing requirements within the market, while also ensuring that each site reaches a minimum viability threshold to achieve a desired level of profitability and that the overall network maintains a competitive level of convenience and geographic coverage," said Mark Patton, Country Manager Australia Urban Science.
"This approach allowed us to plan different scenarios to provide Honda with a range of options to reconfigure their network, taking into account future changes and their impact on demand and profitability."
While a smaller network seems in contrast to the modern backdrop of grow-at-all-costs, Honda Australia's Managing Director, Stephen Collins, said the primary objective, putting the customer experience above all else even if that meant lower annual sales, was critical for the business to become more sustainable.
He says the company benchmarked premium vehicle manufacturers, particularly in Europe where the agency model has become more prevalent, as well as other retail environments and service industries when evaluating and developing the processes for the new system in Australia.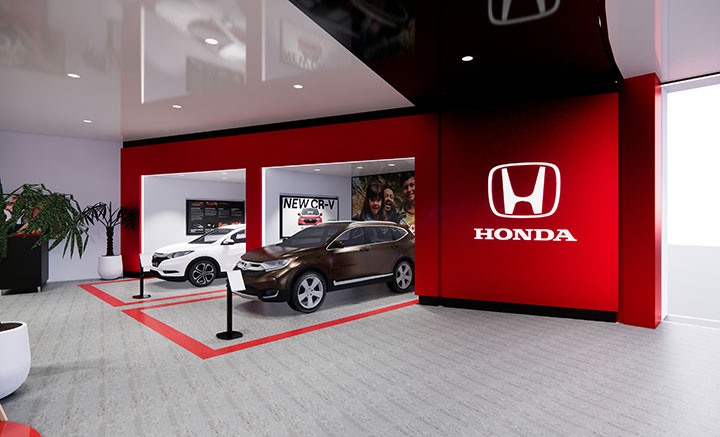 Honda Centre, New Retail Space Concept
"We looked around the automotive world, and agency-type arrangements are becoming more common-place in Europe - and Honda New Zealand has run a similar model very successfully for more than 20 years," he said.
"But we also looked outside of our industry too, including luxury hotel chains that have great service, as well as traditional retailers such as Apple.
"What we found is that making the process simple with no surprises was the common thread, whether it was a hotel chain, a service industry or a retailer – that was the mindset we wanted to tap into."
As such, the network now includes 30 outlets in Australia's major metropolitan cities and a further 60 Honda Centres in provincial and rural areas.
The metropolitan dealers now operate around a "hub and spoke" philosophy, with a centralised showroom that serves as the home base for a number of smaller sites in more convenient locations.
Collins says that strategy is a win-win for the Honda representatives, especially because they no longer have to finance the cars in the showroom and each Honda Centre has a larger catchment of customers to sell to and for servicing.
"The benefits for them are that the operating costs for a Honda dealership reduces significantly; there's no floorplan costs, no stock risk and many of those other financial factors," he said.
"On top of that, we have a huge number of units in operation with several hundred thousand vehicles that come through the servicing network. So, with those owners in metro areas in particular, they get a bigger slice of that service pie.
"We have fewer Honda Centre owners with bigger areas of responsibility, which include smaller satellite centres that can be operated at lower costs, and so we believe it is a pretty strong proposition."
Collins says a key part of delivering a better customer experience will be moving showrooms into more convenient locations for consumers.
Honda is already experimenting with a pop-up location at the popular Indooroopilly shopping centre in Brisbane's inner western suburbs, with a showroom inside the facility and a separate service centre on the rooftop carpark where vehicles can receive routine maintenance while the owner is shopping.
In all Honda Centres, the staff are now called Product Specialists and have been trained to deliver a consistent buying experience with a more open approach and the ability to complete the entire process – from showcasing individual models and configuring the vehicle, arranging finance and insurance, and all the final paperwork – seamlessly using just a tablet device.
"A key part of the fit out is to try and find spaces where the customer won't sit opposite the Product Specialist," said Robert Thorp, Honda Australia's General Manager of Customer Network.
"We're not hiding prices or discounts; everything is transparent. And we find that it alleviates the stress often associated with the car buying experience.
"We've also tried to simplify the purchase process. Where before the customer might have been shuffled between different people in different departments – the car salesperson would sell the car, then pass you onto the aftermarket person to upsell any accessories and then onto the finance person – we've tried to simplify the process with, more often than not, one person that can do it all.
"That just helps the whole experience and takes a lot of time out of it as well."
Find a Honda Centre
Honda Centres Coming Soon