Honda's Price Promise saves time and eliminates stress when buying a new car. Honda has taken out a significant element of stress from the car buying process by removing the ability to haggle on price.
Honda's Price Promise saves time and eliminates stress when buying a new car
Honda has taken out a significant element of stress from the car buying process by removing the ability to haggle on price.
The Japanese car maker's Australian-first move to an agency-type business model has flipped the traditional car dealership on its head, to become more like a conventional retailer by selling vehicles on behalf of Honda instead of the dealership.
A key element of this new model is Honda's Price Promise, which creates consistency and more transparency in the buying process with a 'one-price-for-all' policy on all new vehicles.
"The consistent price makes it really easy for us to communicate to the customer, and our research suggested 90 per cent of consumers were happier not needing to negotiate," said Honda Australia Director, Stephen Collins
"While we have seen national drive away pricing before, that doesn't mean it's the price that people paid for the vehicle. It was a starting point.
"In the past, you'd often wonder if you got a good deal after buying a new car, and whether the dealer was open and transparent about the drive away price, which increasingly led to a lack of trust in the process.
"We felt the best way to create a quality business was to ensure we delivered a really great customer experience first."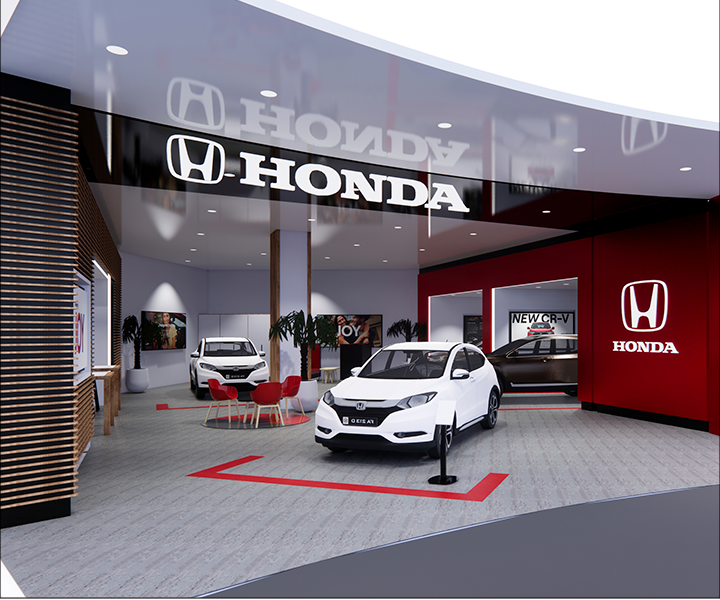 Honda Centre, New Retail Space Concept
Collins also says the Honda Price Promise not only makes it fair for everyone when purchasing a Honda but ensures better long-term ownership prospects for consumers, as it will likely have a positive effect on second-hand values in the future.
"We wanted to make sure the price is fair and reasonable to balance the supply and demand that we have, with the added benefit of a good resale value," he said.
"Consistency in this approach and pricing helps everybody buying a car maintain good resale value."
For Tanya Waite, who recently purchased a Honda CR-V from Southport Honda on the Gold Coast, she said the Honda Price Promise eliminated a lot of anxiety from the buying process, and saved a huge amount of precious time.
"I guess not everyone is a good negotiator and you feel a bit of pressure when you are buying a big ticket item like a car, and that if you don't negotiate you might not be getting the same deal as other people," she said.
"So, I actually quite like the fact that everyone is paying the same price. It seems really transparent to me and it's a level playing field for everyone.
"I also think it is a time saver. I've purchased a new car previously and you feel as though you have to drive around and shop dealers against each other. Often, you're going to a number of different dealerships for a slightly better price, and you still end up with the same car. And it just takes more of your time.
Eliminating the haggling process and knowing that the vehicle wouldn't be discounted at any time also reduced any added pressure for Waite. And she says that Honda and the sales staff had clearly provided all the information she needed to make an informed decision.
"We had already looked online before going into the dealership and you could see all the different models laid out, what they cost, and what you get," she said.
"In the past, it's often been the case that information wasn't always available until you came into the dealership.
"In my past experience, I went into the dealership to enquire about the cost of a new car and they told me they couldn't tell me unless I was ready to buy right now which I found a bit confusing in terms of 'how much do I need to save if I don't know how much the product is going to cost?'
"With this experience, the information was all there, and we knew what we could afford before coming into the dealership, so we could just focus and look at what we can afford, and the features that we liked.
"It gives you trust in the process that you are getting the same deal as everyone else, which I think is very important."
Another factor that Waite appreciated about the Honda Price Promise was the ability to plan and budget properly in the lead-up to purchasing her new CR-V.
"I find the process way easier," she said.
"Purchasing a car is a big investment and we started thinking about it probably a year or two before and started saving for it then. This way, you can plan and start saving ahead of time.
"I feel as though we're all very busy and shopping around isn't necessarily a good thing for people like me that are time poor. So, not having to shop around is more enticing for me.
"And having that information clearly available, so we knew what type of budget we needed to work towards and come into the dealership only when we were in a position to buy is really convenient too."
Learn more about the Honda Price Promise