Everyone has the right to get to where they need to go safe and sound. See how you can become a safer driver today.
Our Commitment to Safety
Honda Australia's commitment to human-centred engineering means that we create safe and intuitive cars for everyone. Of course safer cars are just part of the solution. This blog post will give you the good oil on how each of us can become safer drivers. Together, we can make a difference.
Global Vision
Honda has a global vision of 'Safety for Everyone', with the ultimate goal of a Collision-Free Society.
Australia's National Road Safety Strategy addresses this challenge through four key avenues: Safe Roads, Safe Speeds, Safe Vehicles and Safe People.
Safe Roads - Improving road design, construction and operation to enable safer road use.
Safe Speeds - Setting and enforcing speed limits that better balance mobility and safety.
Safe Vehicles - Regulating safety in vehicle design features and technologies, and promoting safety ratings.
Safe People - Promoting responsible road use through driver licensing, safety education and legislation.
History of Australian Road Safety
Australia has shown that when everyone takes responsibility for road safety, real improvements can be achieved.
Wearing a seat belt when driving may seem like second nature to us now, but did you know that it wasn't mandatory for you, the driver, or any passengers to wear a seat belt while on the road until legislation was passed in 1973?
The early 70's saw the number of lives lost on the road at 30.4 fatalities per 100,000 **. However, through education and progressive legislation, designed to keep you safe on the road, the number of lives lost plummeted to 4.3 fatalities per 100,000 ** in 2020. That's over an 85% drop in road fatalities over the course of the last 50 years!
Significant changes to road rules and regulations such as the introduction of limits to blood-alcohol concentration (BAC) in the early 70's and the mandatory fitment of Electronic Stability Control (ESC) to all new passenger vehicles more recently in 2011, put Australia on the road towards cutting the number of on-road fatalities down to a fraction of what it was.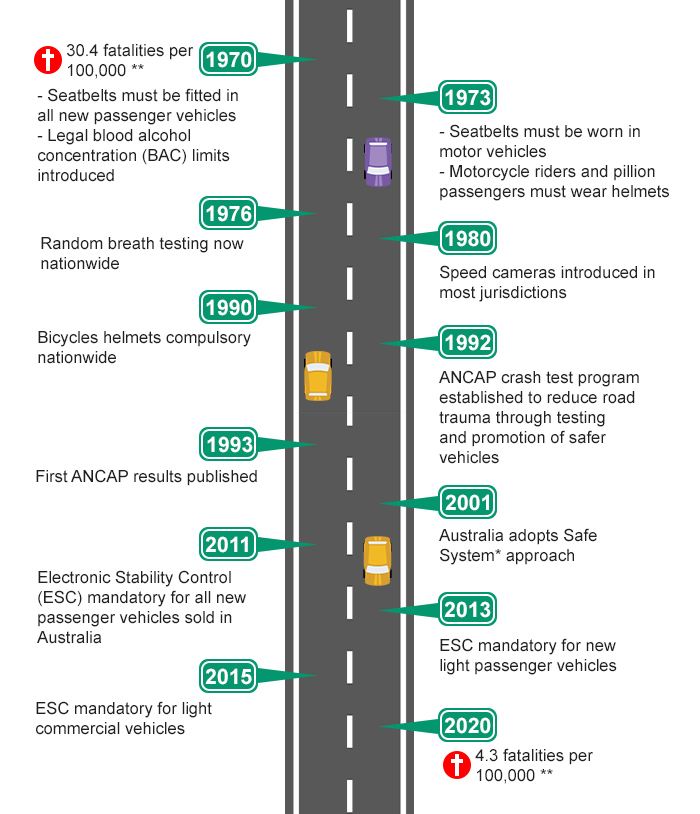 Tips for Safe Driving
Devices 1
Looking at or touching a device while driving or riding is illegal and can increase your risk of a crash by 4 times and texting while driving increases your risk of a crash by 6 times.
To keep yourself and other safe on the road, put your phone on silent and out of reach – or turn it off completely.
Speed Limits 2
A small reduction in speed can have a big impact on safety. In fact, a 5km/h reduction in speed can lead to at least a 15% decrease in crashes.
Abide by speed limits and consider the conditions – if roads are wet or visibility poor, slow down.
Stay Awake And Alert 3
Fatigue affects your reaction time and concentration. It is estimated that fatigue contributed to 20-30% of all fatal crashes on Australian roads.
Make sure you take a break every two hours or take turns driving with your passenger. If you're on the long trip and you're feeling tired, consider parking somewhere safe and taking a 15 minute powernap.
How Honda is Making a Difference
Here at Honda Australia we are committed to delivering extremely high safety standards in every vehicle. With our comprehensive suite of extensive active safety technology available across the entire Honda range from 2021, as well as the introduction of Honda SENSING intelligent driver assist technologies on select models, you can be assured that your Honda is here to protect your precious cargo.
To learn more about Honda SENSING intelligent driver assist technologies and other clever Honda safety features click here