Honda's spacious new 10th generation Accord raises the luxury bar for the mid-sized sedan class, heralding a welcome return of hybrid technology to the Japanese brand's local lineup.
When the original Honda Accord debuted in Japan in 1976, personal computers were still a couple of years away and the first rudimentary smartphone (the 'Simon Personal Communicator') wasn't even a glimmer in the eye of the IBM team that created it. Fast forward to today where most of us carry around a compact super computer in our back pockets, capable of doing everything from navigating us to a destination, booking a taxi, managing our money or streaming our favourite TV shows and movies.

Cars too have followed a similar trajectory, with the relentless embrace of new products and technologies making the vehicles we drive ever safer, smarter, more connected and more fuel efficient than anything before them. While the new Accord may not be exactly the kind of futuristic machine science fiction writers from the 1970s predicted we'd be driving in 2020 and beyond, one look at the advanced technology beneath its metal skin when compared to its predecessors emphasises the swift pace of technological change.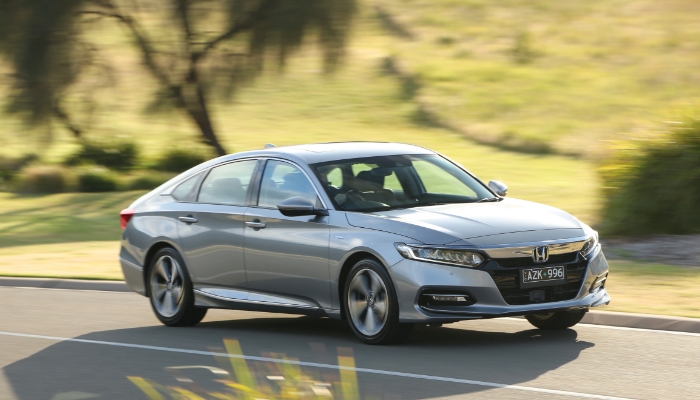 For instance, despite being at least a half-size bigger and weighing almost 650kg more than its diminutive 945kg forefather, the new Accord utilises an advanced hybrid drivetrain to propel itself with far more pace, while sipping fuel even more parsimoniously than the feather-light original. Add to this the fact that, like our smartphones, today's Accord fairly bristles with technology capable of doing everything from braking itself to avoid collisions, to connecting its occupants via Bluetooth to the world wide web, or parking itself at the press of a switch, and you begin to grasp the scale of this automotive advancement.

Even when drawing comparisons with the just superseded ninth-generation Accord the changes between the two Hondas are profound. For instance, despite having a stiffer and stronger body than its predecessor, the new Accord is some 70kg lighter than that car, thank to extensive use of aluminium in its suspension components and other targeted weight saving measures. And despite having shrunk the car's external dimensions, Honda's engineers have somehow managed to free up even more interior space in the car's Tardis-like interior.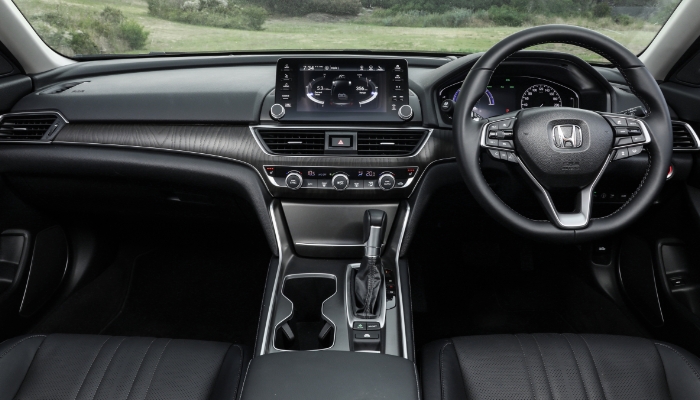 Honda has left no stone unturned in its bid to elevate Accord to not just flagship passenger car status within its own lineup, but to also draw a line in the sand with regards technology and luxury features that sets it apart from mid-sized sedan rivals like the Toyota Camry and Mazda6.

Among many important differentiators between the new Accord and its predecessor is the return of a petrol-electric hybrid option as one of two new drivetrains offered – the other, a spirited 1.5-litre turbocharged four-cylinder unit. The two powertrains come packaged in a single upmarket VTi-LX specification that's brimming with the sort of standard features more commonly associated with premium-priced European models.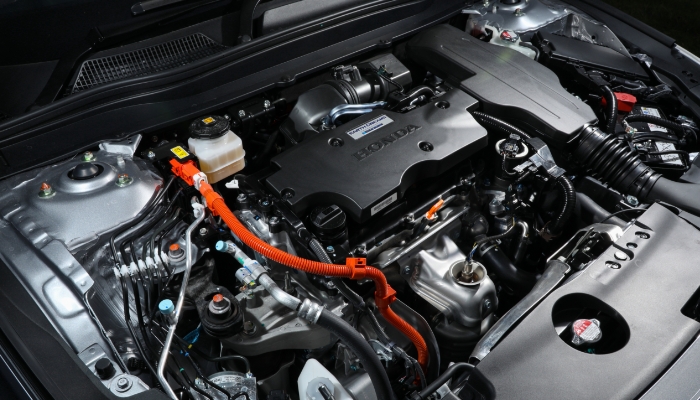 I drove both the new Accord models over a wide variety of conditions on a spirited 340km return run north from Melbourne to the vineyards and shimmering waterways of Victoria's Goulburn Valley region, putting the cars through their paces across a range of different road conditions, including freeway, B-roads and some patchy, pot-hole-blasted sections that tested tyres and suspension as only Aussie backroads can. Both cars proved impressively comfortable over the worst sections, the MacPherson strut front and multilink rear suspension absorbing the punishment fluidly and avoiding the crash and bash that can often manifest in such conditions.
Riding on different spec 235/45R18 tyres (the hybrid gets a special 'eco' tyre with low-rolling resistance), both cars exhibited high grip levels and the sort of impressively disciplined body control that rewards enthusiastic driving. Steering feel through the sporty leather-trimmed wheel was pleasingly direct, with enough feedback for the driver to be thoroughly engaged, while the stiff bodyshell showed the benefits of Honda's extensive use of ultra-high strength steels and new-found adoption of structural adhesives.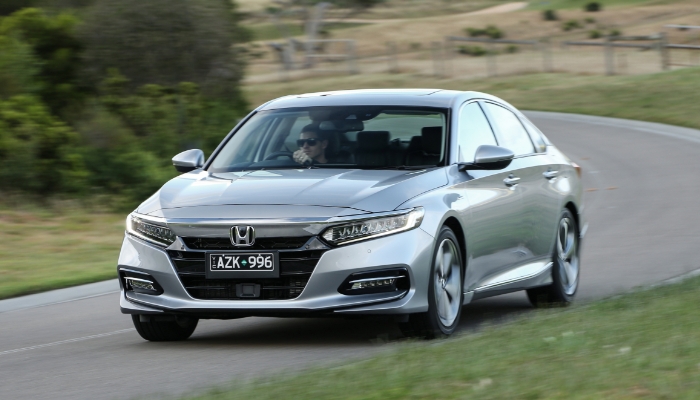 The 1.5-litre turbo is a typically hi-tech Honda powerplant, featuring 16-valves, DOHC, direct injection and dual Variable Timing Control to produce 140kW of power and maximum torque of 260Nm. But unlike naturally-aspirated Honda engines of old, you don't need to rev the engine all the way to 6000rpm to extract its best, the turbocharger instead helping the engine muster peak torque from a low 1600rpm and remaining consistently muscular all the way to 5000rpm. The engine drives the front wheels via a continuously variable transmission, the latter equipped with selectable sport- and eco-mode switch, plus steering-wheel-mounted shift paddles for pseudo-manual control.

There are paddles behind the wheel of the hybrid model as well, but instead of changing gears they adjust the amount of regenerative braking charge put back into the battery when decelerating. This model's third-generation hybrid drivetrain features a 2.0-litre 16-valve DOHC Atkinson cycle engine, paired with two electric motors mounted in the same casing as the car's single speed CVT-style transmission. The combination produces a more emphatic 158kW at similar peak revs to the turbo model, but thanks to the electric motors its 315Nm of torque is available from 0 to 2000rpm, meaning its response is more instantly assertive.

Road and wind noise are impressively quelled on most surfaces, thanks to a comprehensive sound insulation package that includes full underbody covers, wheel arch and engine compartment insulators, acoustic laminated windscreen glass, sound absorbing carpet and even an active noise control system.

There's also clearly been a concerted effort to lift the quality of materials inside the Accord's cabin, resulting in a distinctly premium look and feel. Soft, perforated-leather covers the seats, steering wheel and gear shift, while a dark faux-timber insert stretches the width of the dash and around into the doors, lending a look of modern sophistication. Materials quality is the equal of anything in the class, with extensive use of soft-touch plastics and pleasingly tactile materials on key touch points.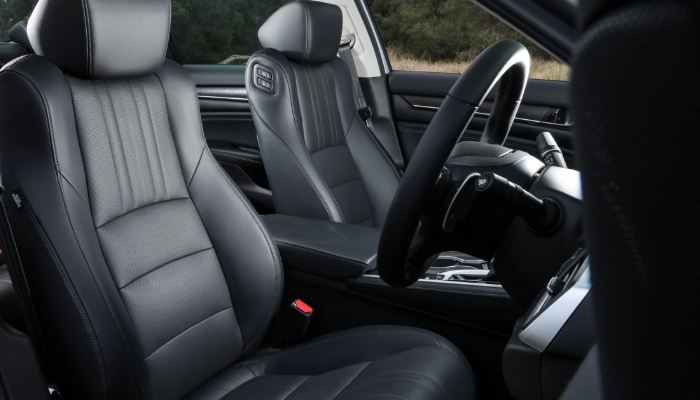 The electrically-adjusted drivers' seat is lower and sportier than in the previous Accord, but still impressively comfortable and supportive, and there's enough adjustment of both the seat and the multifunction steering wheel to accommodate most body types. Visibility is excellent, too, thanks to a low cowl, large glasshouse and A-pillars that Honda says are 20 per cent narrower than before.

Rear seat accommodation is hugely impressive, drawing comparisons to the sort of comfort and space you might find in a long wheelbase luxury car. Honda says its comprehensive repackaging efforts have shifted the second-row rearwards by 49mm, resulting in ample leg, knee, foot and head room. The slightly elevated theatre-style seat provides good forward visibility, while extra-large rear windows and relatively low sills provide a panoramic outlook.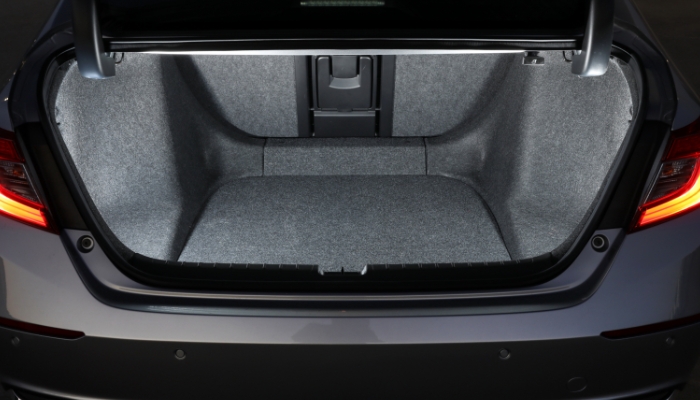 Fortunately, the rear seat shift hasn't impacted on luggage space and the new Accord boasts a voluminous 570-litre boot that's almost 25 per cent bigger than before. Choosing the hybrid model no longer means losing your rear seat load-through function either, thanks to repackaging of the hybrid battery pack to beneath the seat.

Honda has left few stones unturned in its root and branch approach to delivering an all-new Accord for this, the second decade of the 21st Century. The new model is thoroughly impressive across a wide range of applications but most notably for its incredibly roomy, comfortable and classy interior, its refined driving manners and its sophisticated powertrains. It's also the most intelligent and connected Accord yet with a tech-savvy interior that positions it at the leading edge of its class.

By Mark Quinlan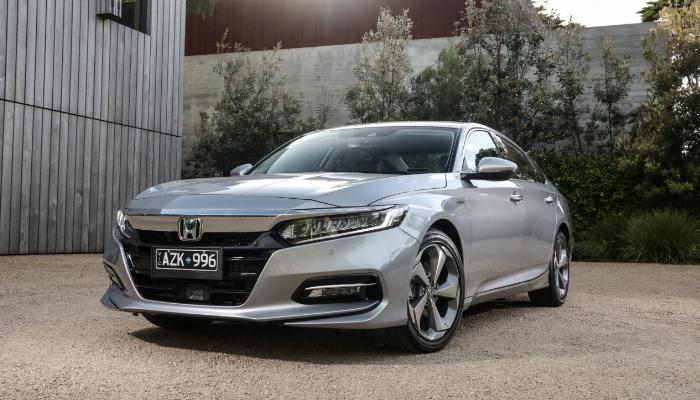 ELEVATE YOUR EXPECTATIONS
Introducing the best Accord yet – where everything from the design and comfort, to tech, performance and safety has been elevated to the next level.