The CarAdvice.com team recently compared the Honda CR-V and the Mazda CX-5. Spoiler alert, The CR-V came out on top!
Honda CR-V versus Mazda CX-5. Which of the two do
CarAdvice
recommend as the best petrol AWD medium SUV under 40 grand?
There's a dizzying choice of options in the medium-SUV segment even before you factor in price, propulsion type and driven wheel count, or prior to separating mainstream from premium badges. Something for everyone, then, even for buyers with quite specific demands and wants.
Here we've matched up the
Honda CR-V VTi-S
with the Mazda CX-5 Maxx Sport. Both here are petrol-powered, though the Mazda can be had as diesel. Both here are all-wheel drive, though either can be had as front-drivers.
Both are from Japanese brands, of course (although the CR-V is assembled in Thailand), and can be had for under $40K before on-roads.Content here.
PRICING AND SPEC (RRP AND OPTIONS)
At $36,490 before on-roads, the VTi-S is the lower of two available grades of CR-V offered in petrol AWD, our test car unoptioned with metallic silver paintwork at no extra cost. The high-spec VTi-LX alternative is, at $44,290, a huge step up in price.

Meanwhile, the Maxx Sport sits just above the base Maxx in a range of six different petrol AWD CX-5 variants and wants for $39,090 list… Plus $495 for the tasty Machine Grey metallic paint. For comparison, the flagship Akera Turbo version sits way up at $50,630.

It might appear a skewed fight pitching a $2600 pricier and seemingly higher-grade Mazda against a more affordable base-spec Honda. But this only rings true if the CX-5 offers a fitter level of equipment that matches or betters what's ostensibly quite a modest difference in outlay.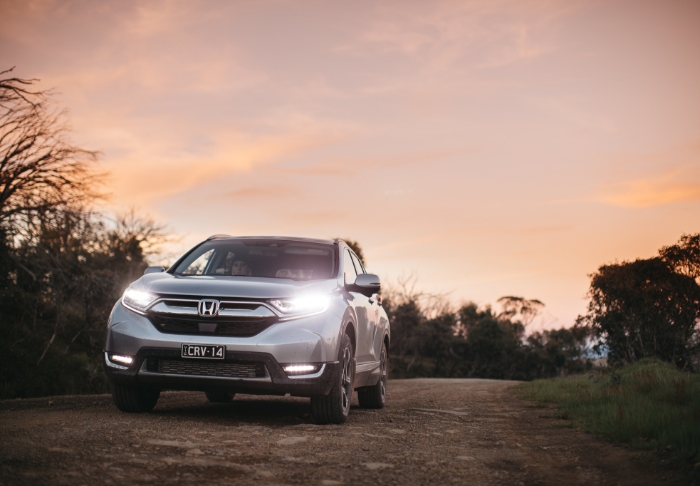 Both SUVs get keyless entry, push-button start, a reversing camera, dual-zone climate control, LED tail-lights, automatic headlights and rain-sensing wipers, though only the Mazda fits LED headlights and fog lights, while the Honda makes do with halogens and LED DRLs.

The Mazda gets rear parking sensors, while the Honda fits them both front and rear. The CR-V exclusively fits 18-inch wheels, a full-size spare and a powered tailgate. Meanwhile, the CX-5 gets an auto-dimming mirror and 17-inch wheels with a temporary-use spare.

General equipment-wise, there's not much in it: no obvious superiority, no real deal-breakers. So let's see how they fare in a deeper dive into tech.

TECH AND INFOTAINMENT
Each gets 7.0-inch touchscreen infotainment, proprietary sat-nav, Bluetooth phone and audio capacity, Apple CarPlay and Android Auto phone mirroring, though only the Mazda gets digital radio, while only the Honda features digital driver instrumentation.

The CR-V fits eight-speaker audio to the CX-5's six-speaker arrangement, though the latter has internet radio integration.

The main difference between the systems is that the CX-5 uses an older Mazda format that locks out the touchscreen functionality on the move – an old 'safety' hangover – where you're limited to accessing features using the console controller. Honda's screen does without a secondary controller, and utilises a full touch interface.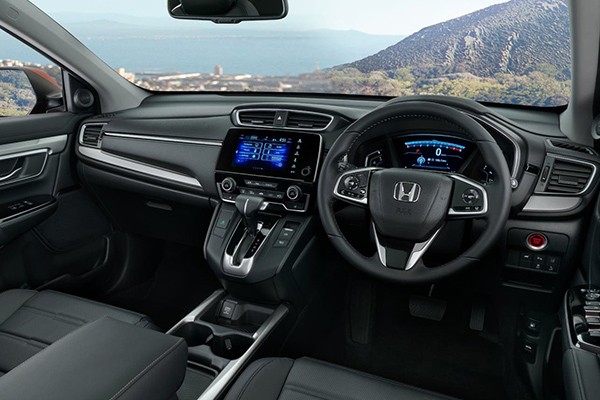 Both contenders offer quite extensive safety credentials, as buyers should rightly expect from this highly competitive family-hauler segment, though it's worth a mention that the comprehensive Honda Sensing package of assistance technologies is only fitted to the AWD version of the CR-V VTi-S (in case you were tempted by the front-driver version to save some outlay).

Meanwhile, Mazda bundles its safety and assistance systems under the i-Activsense marketing banner.

Each features radar-based forward monitoring that brings with it more advanced AEB and adaptive cruise control with urban automation – Stop-Go for Mazda, Low-Speed Follow for Honda – and both feature forward-collision and lane-departure warning systems, as well as active lane-keeping smarts.

The Mazda gets blind spot monitoring, rear cross-traffic monitoring and reversing AEB, while the Honda exclusively fits the LaneWatch kerb-side blind-spot camera system.

Each has been rated a full five stars in ANCAP testing (mid-2017 assessments).

CABINS
Each boasts a distinctive approach to styling and design, and it's as conspicuous inside as it is outside.

The CX-5 cabin is "a generally nice place to spend time in", as we found in our garage review of the Maxx Sport AWD. It's pleasing and inoffensive, palatable in a manner that'll please a good many buyers, if looking and feeling a bit old hat were you to compare it with the measurably more modern Mazda 3 cabin.

There's not much richness to the Mazda cabin, be it in material choice or window dressing. The analogue instruments are basic and don't so much as feature a digital speedo readout.

The 7.0-inch touchscreen appears tiny perched on the dash top, its graphically boxy and cumbersome interface via the MZD rotary controller more than a little distracting on the move. Audio control, too, is a chore of submenus.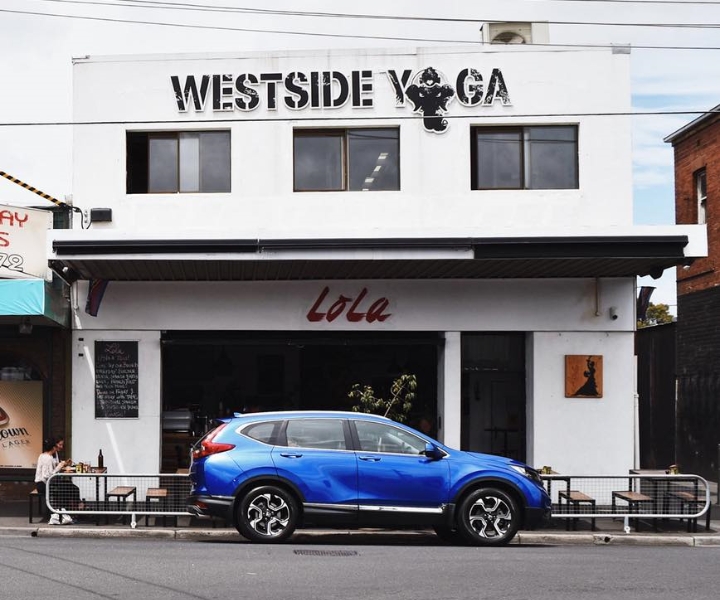 The CR-V feels a little more substantial – less 'tinny' – in use of materials and general integration. It's a bit fancier than the Mazda and more elaborate, though Honda's less conventional, almost 'angular sci-fi' approach to interior styling won't be to all buyer tastes, including the novel dash-mounted transmission controller.

On balance, the infotainment system is no better than the Mazda's – again, it lacks the CX-5's DAB+ radio – and we found the navigation feature as clumsy in user interface and guidance. Neither infotainment system is close to being a segment leader.

The Honda also feels the airier in the first row and measurably roomier of the pair in row two – be it head, shoulder or knee room – and remains a leading light for smart interior packaging. The CR-V, too, steals the march for seat design, its front pews significantly more comfort-contoured and friendlier for long-haul driving. Both offer oodles of stowage and facility for powering devices, and each offers rear passenger ventilation, as every SUV on the market should (if they don't).

The CR-V stretches its interior advantage in the boot, its wide and deep proportions and superior volume (522L plays the CX-5's 442L) a common topic of praise against any mid-size SUV competitor in past mega-testing. While Mazda advertises larger luggage area (1342L plays the CR-V's 1084L) with the rear split-fold seating stowed, the suppliers use different measurement practices and it's the Honda that maintains superior spaciousness.

Both SUVs fit remote levers, to stow row two, into the cargo bay walls but only the CR-V offers added lighting and an automatic tailgate.

So, the Honda takes the victory for interior goodness and practicality as a measure of space and room.

DRIVELINES
Despite two distinctly different approaches to the powertrain format, these two SUVs offer similar returns in a few key ways. The Mazda fits a 2.5-litre naturally aspirated, high-compression four-cylinder that produces 140kW at 6000rpm. Meanwhile, the Honda fits a much smaller capacity 1.5-litre four, albeit turbocharged, that generates exactly the same power (140kW) if, at 5600rpm, a little lower in its rev range.

Each runs happily on basic 91RON fuel, and each claims an average consumption of 7.4L/100km, yet both returned bang-on 10.0L/100km in our real-world testing along identical road loops. That's quite remarkable given that they use very different transmissions – CVT for the CR-V, six-speed automatic for the CX-5 – and weighbridge figures, with the Honda (1597kg) more lightweight than the Mazda (1641kg), if not by much. But it's really the differences in torque characteristics that separate the pair in the driving experience.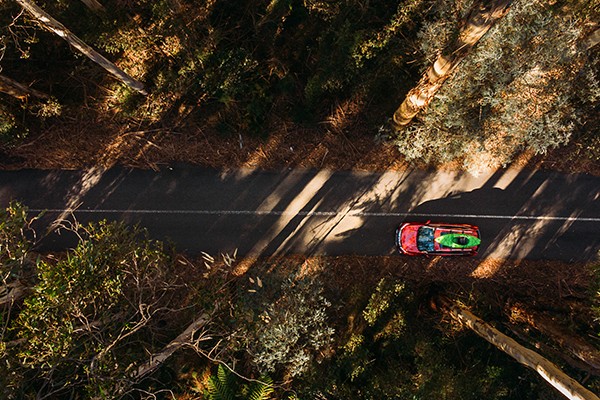 At 252Nm, the CX-5's 2.5-litre offers the superior torque output, but as it arrives way up at 4000rpm, the engine seems more raucous and strained than it ought to be, though the six-speed auto does a decent job of plucking the powertrain's best with decent refinement. It's a conventional powertrain combination with a familiar, smooth character that, a lack of sheer poke apart, will be pleasing to a good many owners.

While the Honda 1.5-litre's 240Nm looks more anaemic on paper, its far wider 2000–5000rpm peak torque spread makes for a gutsier and more responsive experience that's low-stress, be it driven casually or at full throttle. Give the berries and the CVT will hold the engine at an RPM point, causing a bit of a low drone, but that's the worst of what's the more polished package on show in this test.

On balance, the Honda offers a quieter and smoother experience, but it's a measure of shades between two decent, if not necessarily outstanding, segment competitors. Both are finer and more comfortable at highway pace than they are at lower speeds around town, though it's the CR-V that is measurably more compliant over sharp hits and speed bumps, where its cushy ride is complemented by a bit of wallowy body control.

The CX-5 is more one-dimensional in ride and handling: more fidgety over bumps and lumps, a bit noisier for ambient and tyre noise, less connected to the road on its narrower (225mm plays 235mm) tyres. Not a lot to whinge about on the balance of things, if nothing really of note to highlight, either.

Underneath is Mazda's clever-sounding G-Vectoring Control Plus smarts that apparently modulates torque to some degree in response to driver inputs, but bugger me if you can feel any positive contribution to the on-road experience.

That said, both on-demand all-wheel-drive systems in this competition demonstrated completely transparent functionality: total traction whenever you need it. You don't notice in either SUV if and when the rear axles clock on to complement the primary front drive, even in slippery 'first rain' conditions.

Both offer identical, average 11.0m turning circles and are easy to judge and park, though the Honda does feel larger – because it is – and therefore trickier of the two in tight car spaces (for the record, the CR-V is 46mm longer, 15mm wider and 14mm taller). Of the two, the rear cross-traffic alert (and reversing AEB) is a real boon for the Mazda when reversing out of parking spots.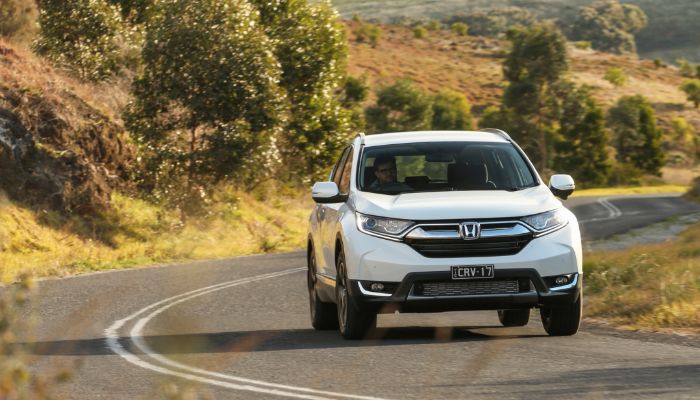 OWNERSHIP
Both SUVs are covered by decent five-year/unlimited-kilometre warranties (at the time of writing, Honda is doing seven-year-warranty offers on 2019-plated versions).
Further, 12-month/10,000km servicing intervals are common for both competitors here, the Honda wanting for a flat pricing cap of $312 per visit against the Mazda's $329–$359 range per visit for basic servicing.
VERDICT
Given that neither of these two SUVs steals the march in the equipment stakes, the $2600 saving puts the more affordable CR-V on the front foot, value-wise, out of the blocks. The Honda stretches its lead with its roomier and richer-feeling interior and superior luggage space, and then extends its dominance with what's a generally nicer all-round experience on-road.
Neither of these two family haulers is what you'd call boring or uninteresting in what's arguably motoring's most 'vanilla' segment, though equally neither offers much that's exciting, refreshing and new.
The CX-5's last light update occurred in late 2018, around the time when this CR-V VTi-S gained Honda Sensing safety kit as standard. A facelift is coming for the CR-V later this year, but otherwise these two are quite familiar stalwarts and, in areas, their ages are becoming more and more conspicuous.
That probably won't, and perhaps shouldn't, impact their strong popularity with medium-SUV buyers right now, even if we can recommend the Honda option more highly than that of the solid, if largely unremarkable, Mazda.