The Honda Civic's range of super-efficient engines offers proof that you really can do more with less.
The Honda Civic's range of super-efficient engines offers proof that you really can do more with less.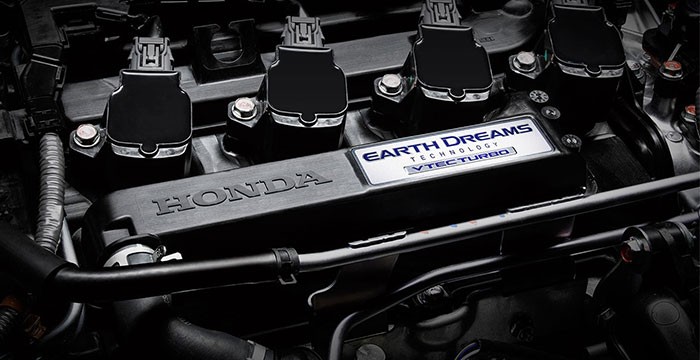 If you've been looking at buying a new car recently, you'll have noticed that engines have shrunk in capacity. What was typically a 2.0-litre engine in a small car is now a 1.8-litre engine – or even a 1.5-litre engine. Why on earth is that happening, you might ask?
Well, the answer is actually quite simple.

As technology in cars has improved, it's meant that more power can be extracted from smaller, high-performance engines, often by using turbocharging. There are other benefits associated with the shift towards smaller engines, too. A smaller engine can offer improved fuel economy, which means you don't need to fill it up nearly as often, and fewer emissions mean smaller engines can often be kinder to the environment.

It's a trend happening right across the motoring world – and it's one that Honda is right at the forefront of. You'll see evidence of it in the latest Civic range, which uses smaller-than-normal engines to deliver a power punch and exceptional economy.

What is Earth Dreams technology?

All five variants within the Civic range are powered by Honda's VTEC engine, which has been specifically designed to offer a high level of performance at high RPM (revolutions per minute) and low fuel consumption at low RPM. All incorporate Honda's Earth Dreams technology, which basically means that a set of smart advancements is contained in every Civic sedan and hatch to help them extract maximum performance from their downsized engines.

Both of the Civic's base model variants (the VTi and VTi-S) are powered by a 1.8-litre i-VTEC ('I' for intelligent) engine that outputs 104kW of power and has an impressive fuel consumption figure of 6.4L/100km while producing 148g/km of CO2 emissions (150g/km in the hatch version).

This 1.8-litre engine is an economical choice when it comes to satisfying the needs of the everyday driver because it offers the perfect blend of performance and fuel economy.

The three higher-specification variants in the Civic range (the VTi-L, RS and VTi-LX) are all powered by Honda's first-ever 127kW VTEC Turbo engine. It's a 1.5-litre engine capable of pumping out 127kW of power while consuming 6L/100km (6.1L/100km in the hatch) and producing 140g/km of CO2 emissions (142g/km in the hatch).

How does the turbo help?

The engine in these variants is smaller, for sure, but the fact that it is turbocharged makes all the difference. Maximum power can be extracted from the downsized engine and with noticeable improvements in fuel economy. A turbocharger works by feeding more air into the engine, which means more fuel can be added as well to burn more effectively and create more power in a smaller package.

It's the ideal choice for drivers who want the advantages of extra acceleration, higher cruising speeds and the feel of a responsive and dynamic drive.

The technology in the new Civic range means there is no longer any need for a large engine. With its smaller and more efficient 1.8-litre, and 1.5-litre turbocharged, engines, the latest range actually proves once and for all that good things really do come in small packages.