An enormous array of infotainment options are at your disposal when you're behind the wheel of Honda's latest Civic.
An enormous array of infotainment options are at your disposal when you're behind the wheel of Honda's latest Civic.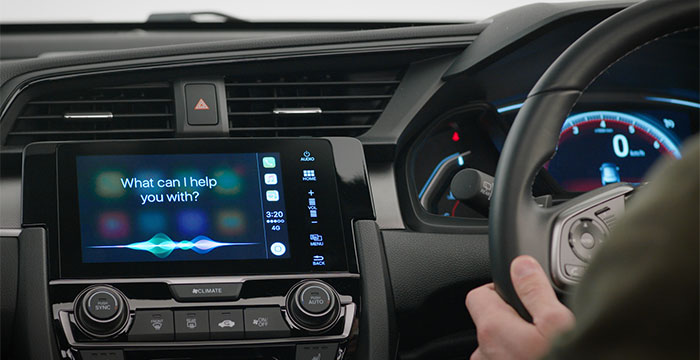 Have you ever said "Hey, Siri" or "OK Google" and your phone has responded to exactly what you wanted? Well, imagine doing the same thing in your car, while you're driving!
It's a busy world we live in, which is why people increasingly want to use the time they spend in their car more productively. Making and taking work-related calls, catching up with friends and family and listening to favourite podcasts and audio books are all possible with the technology available in new cars. You can even take online foreign language classes if you want to put your commute to work to good use!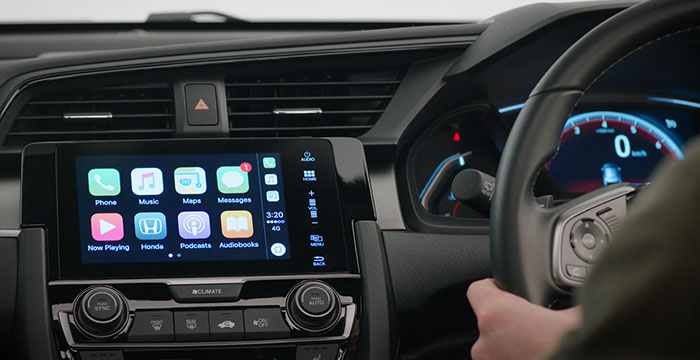 Not only has it never been easier to connect with all your favourite infotainment offerings, it's never been more fun to simply jump in your car and use the technology right at your fingertips.

Honda has always aimed to put convenience and fun at the heart of its driver experience, so it's no surprise its latest Civic range allows you to use your car as an extension of your phone – and not just for making phone calls.
Civic Connectivity

Connect your phone to your car by enabling Bluetooth phone and audio connectivity and you can make hassle-free hands-free calls to anyone in your contact list. But syncing your smartphone with your Honda Civic also allows you to unlock the vast array of information and entertainment options available on your phone. Having trouble making the connection? Review the most frequently asked questions regarding Bluetooth connectivity via our handy guide.

Apple or Android?

It's all made possible when you use the Civic's impressive 7-inch Advanced Display Audio interface, which comes standard across the entire range. The interface uses Apple CarPlay® and Android® Auto technology to connect your smartphone with the Civic's entertainment system by displaying a number of your favourite phone apps on the high-definition colour touchscreen. Access all the music files on your phone, as well music streaming services like Spotify®, compare petrol prices on demand, not to mention send messages to your contacts quickly and easily using voice commands.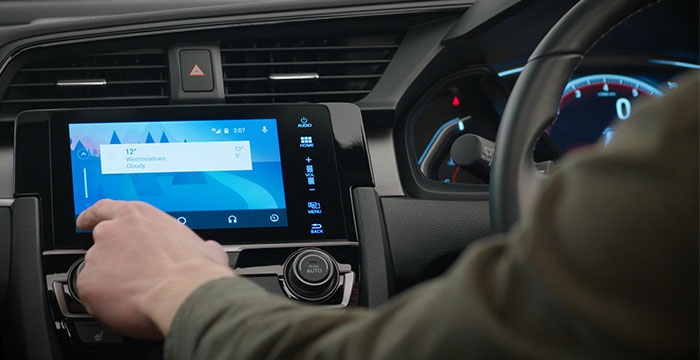 Gone are the days when having satellite navigation was the be all and end all. With Apple® CarPlay and Android® Auto you can use your favourite map app to get directions to your destination, which means you'll never get lost again.

Using smartphone apps in your Honda Civic isn't just practical and enjoyable, it's also safe. The Civic's contoured steering wheel controls with voice command means you never have to take your hands off the steering wheel.

Serious sounds

Unless you have some serious hi-fi equipment at home, the Civic is the best place to enjoy listening to your favourite music. It doesn't matter whether you're into indie or hip-hop, the Civic's 8-speaker audio system creates an aural landscape that makes any journey fun. For serious music lovers, the 452-watt premium audio system in the RS and VTi-LX Civic variants put out crystal clear sound even when played loud. The system has 12 speakers including a subwoofer for satisfying low-end bass. Both variants also come fitted with Digital radio (DAB+) for even better sound.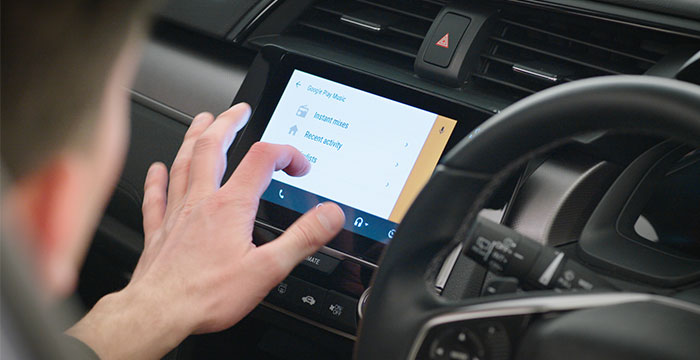 By taking all the infotainment advantages offered by your phone and rolling them into one easy-to-use package, the Honda Civic has helped change the way people interact with their cars.