Buying a new car can appear daunting, especially for first-timers. Here's how to find the perfect car for you.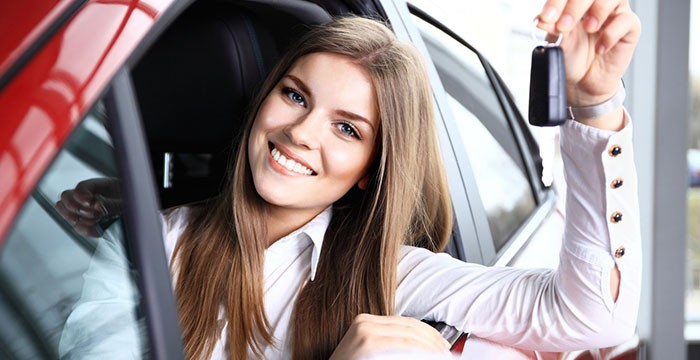 Some first-time buyers assume the process of buying a new car to be complicated. But it needn't be if you're prepared to keep an open mind and you know what questions to ask your salesperson so they can help you reach the right decision.
If you're reading this, there's a very good chance you've done your research and you're interested in buying a Honda. You've taken a big first step already. But perhaps you need help deciding which model is right for you, or you need advice on how to get the best deal?
Ask us anything

Take a trip to your local Honda dealership and be upfront with the salesperson about what you want out of your new car and how you'd like it to fit in with your lifestyle.
Cost will no doubt be a consideration when purchasing your new car, but always make sure you're comparing apples with apples. Look at the base model price but be mindful that some brands' base models may appear more pricey because they are better equipped to begin with. The entry-model Honda Civic, for example, comes equipped with an automatic gearbox, which is always a bit more expensive than a manual gearbox.
Looks and performance matter too, of course, but don't forget the myriad other factors that will impact your enjoyment of the car. Perhaps safety is of utmost importance to you, or the amount of interior space that's available especially if you have a growing family. Also don't forget to enquire about fuel economy if you want to keep your car running costs down. Honda's model range of hatchbacks (Jazz, Civic Hatch, Type R) SUVs (HR-V, CR-V) and sedans (Civic Sedan) means there is a model that meets your needs.
The advantage of buying a Honda – any Honda – is that all of these factors have been considered already. Every model is a well-rounded package – it's just a case of establishing which one best suits your needs.

Take a test drive
The best way to narrow down your options is, of course, to take any car you're interested in for a test drive. Your dealership representative will take you drive route that offers a variety of road and traffic conditions so you can see how the car behaves in different situations. It's also an excellent idea to take a friend along with you. That way you can get a valuable second opinion and you can feel what it's like to ride in the car as a passenger.

Make sure the demonstration vehicle has the same specifications as the car you're interested in buying, but give some thought to whether it's worth upgrading to a higher specification level. Base-model Hondas come exceedingly well equipped already, but you might decide that the added features in a higher-specification car are worth the extra expenditure.

Doing the deal

Once you've made your decision to buy, you're in a position to negotiate a price. Don't feel pressured into buying until you're ready and remember that Honda dealers are obliged to provide you with an all-inclusive drive-away price that incorporates stamp duty and any applicable dealer fees.
You'll need to have your finance in order before you buy, of course. It's always worth shopping around to get different quotes, but note that your Honda dealer can provide competitive financing and the convenience of taking care of the paperwork for you. Just make sure you read the full terms and condition of the contract of sale offered to you by the salesperson.
Lastly, you'll need to ensure your new car is insured from the moment you take possession of it.

Once you've signed on the dotted line and received your new brand new set of Honda keys, all that's left to do is adjust the seat and mirrors and drive away!